The Lustrum board of 2020-2021 is happy to inform you of all the events through this page as well as the Instagram page (@acdlustrum) and the Facebook page (Stichting Lustrum Amsterdams Chemisch Dispuut)! All registration forms for our activities will be available here (behind a login), but most of the promotion will be posted on social media platforms!
Would you like to attend one of the activities, but do not have a login: mail to lustrum@acdweb.nl to sign-up!
Information and registrationlink upcoming activities:
SLAxVOLA Alumni Drinks + Dinner – Saturday 05/02/2022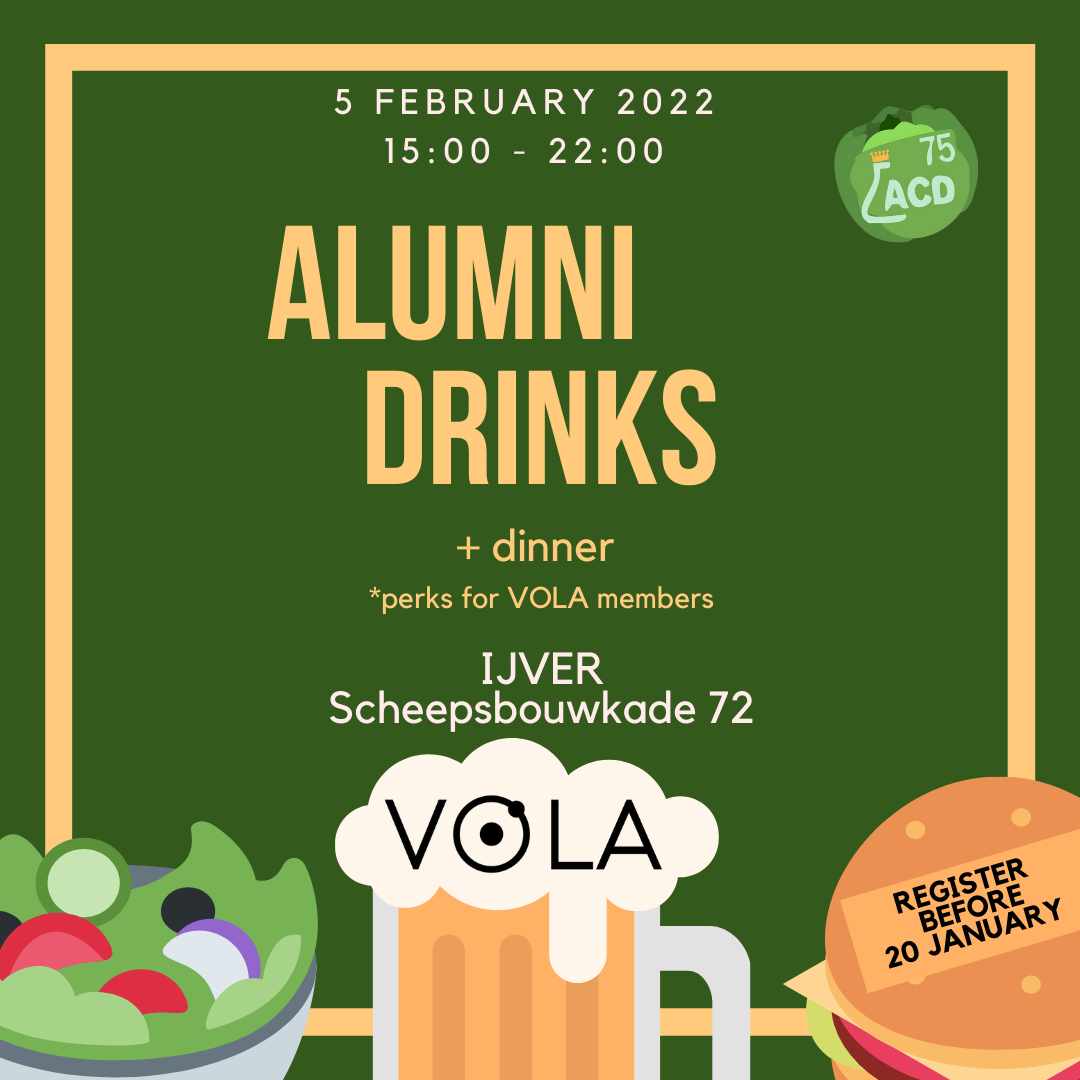 The SLA (our lustrum borad) and the VOLA have teamed up for our reunion scheduled for Saturday the 5th of February2022 from 15:00 to 18:00 at IJver Amsterdam (Scheepsbouwkade 72 1033 WM Amsterdam Nederland) as one of our many (late) celebrations for the 75th birthday of the ACD. These drinks will be the perfect opportunity to reminisce on your time of studying and to see other alumni again. After these drinks there will be a closing dinner which will be at reduced costs for our VOLA-members and will cost €28.50 for our other alumni.
We would like to hear from you if you would like to attend. If possible, please fill in this form before Thursday January the 20th 23:59 h so we can make sure that there are enough snacks during the drinks and meals during the dinner. Please note!: without any notice of attendance, we will not be able to admit you to the drinks and the dinner.
We are looking forward to seeing you at the reunion. We are aware that we might have to adapt to current coronameasures and we will send you an update if this is the case. If you happen to have any questions, please do not hesitate to email us at vola.acd@gmail.com
Register Here!