ACD symposium
Posted On 27 september 2018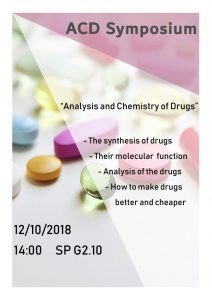 Na een jaar te moeten wachten, is het voor het ACD weer tijd voor een symposium!
De LEC is erg verheugd om te mogen aankondigen dat het thema van het aankomend symposium 'Analysis and Chemistry of Drugs' (ACD) is.
Dit symposium zal op vrijdag 12 oktober plaatsvinden van 14:00-17:00. Tijdens dit symposium zullen vier sprekers een presentatie geven die bij het thema hoort.
Wij zullen de sprekers de komende tijd één voor één bekendmaken dus blijf op de hoogte!
Na het symposium is uiteraard een borrel waar je verder kan praten over het symposium (of niet).
Wij hopen dat er zoveel mogelijk zullen komen!
14.00 Opening
14.10 Speaker 1: Jan van Maarseveen – Synthesis of medicine
14.40 Speaker 2: Danny Scholten – Molecular function of drugs and how to discover them
15.10 Break
15.20 Speaker 3: Pim de Voogt – Analysis of water
15.50 Speaker 4: Peter van Dijken – Better and cheaper medicine by innovative methods
16.20 Break
16.30 Mystery Guest – Neurochemistry of LSD: why is its trip so long?
17.00 Borrel
Datum: vrijdag 12 oktober
Locatie: Science Park 904, G2.10
Tijd: 14:00-17:00