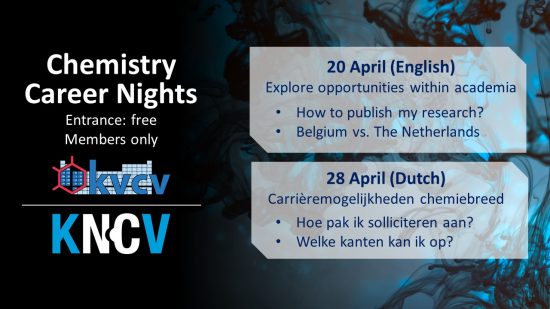 Not quite sure what to do when you are graduated? Working in a lab? Going abroad? To PhD or not? To help you make these choices, the KNCV and the Flemish KVCV are joining forces for two online career evenings.
On Tuesday, April 20, you will learn everything about a career within the university. Speakers are Leana Travaglini (scientific publisher Wiley), Prof. Richard Hoogeboom (UGent) and Prof. Timothy Noël (UvA).
Careers outside the university will be discussed on Wednesday 28 April (in Dutch). The evening consists of a lecture about applying for jobs (CheckMark Labrecruitment) followed by a number of short presentations by chemists, each with a different inspiring story. Finally, you can have a digital drink with other attendees and recruiters from CheckMark to expand your network.
Both events are free and exclusively for members of the KVCV and KNCV. More info and registration: kncv.nl/careernight or kvcv.be/careernight